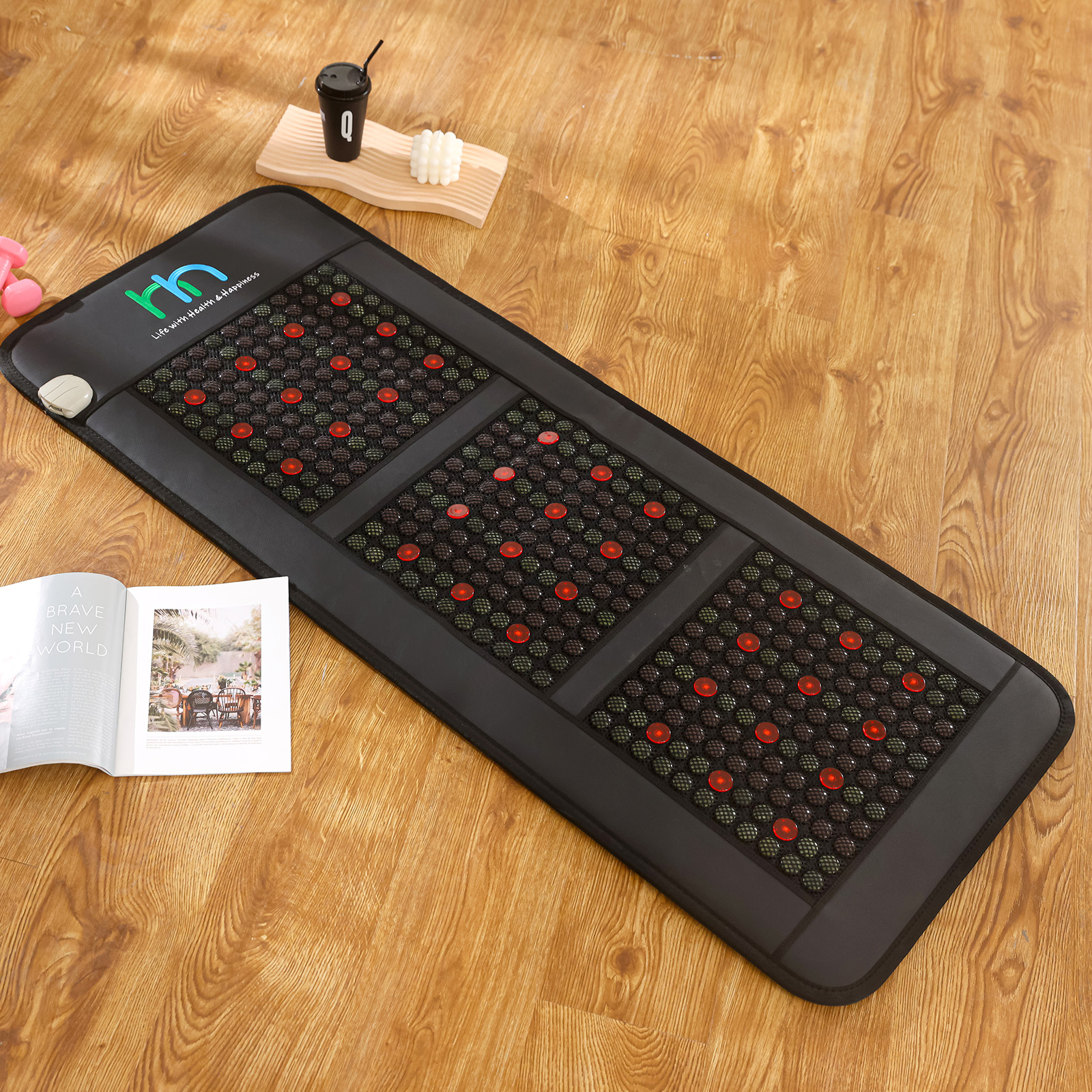 Product Description
HH026 Excellent Mat is equipped with 162 pieces natural Jade and 198 pieces round Tourmaline Gemstones and mesh lining adds flexibility. They bring your energy and mood levels closer to normal and at the same time produce the largest amount of negative ions, thereby helping the body to function more effectively.
You can use it comfortably on the floor, bed, sofa, recliner or even against the wall. Sleep on the mat overnight to extend the time you spend on promoting health. When these nature gemstones emits high levels of far infrared rays and negative ions, just turn up the heat and relax. These natural remedies will help improve your health and temporarily strengthen your circulatory system. Use intuitive controls to find your most comfortable temperature. Start a better health journey with a model that continues to prove itself.
Product Features
100% Natural Tourmaline & Jade

Far Infrared Heating Therapy

Negative ions Therapy

Photon Technology

PEMF Technology

Durable Leather

Heat Resistant Mesh Fix Crystal and Tourmaline Ceramic Balls

Fast Heating

Intelligent Controller Precise time and temperature control

Overheating protection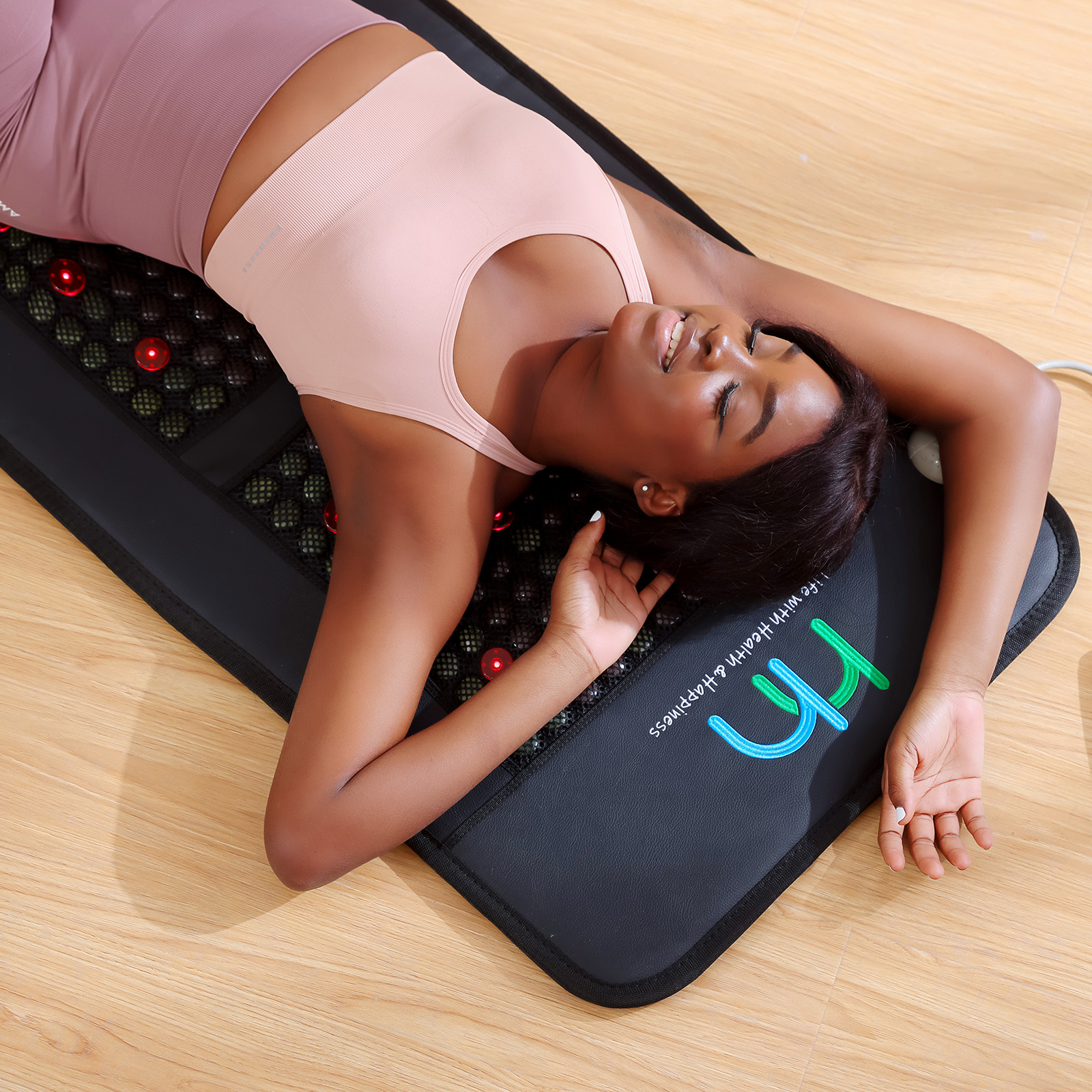 Health Benefits
Create a soothing sleep environment

Provide more relaxing sleep

Increase memory ability, improve insomnia, treat headache

It has a clear therapeutic effect on the body's digestive system

Balance positive and negative energy

Eliminate mental tension and stress

Maintain physical and mental harmony metabolism

Eliminate body waste

It contributes to the health of the body's trachea and lungs

It helps with blood circulation problems

It can be of great help to relieve the body's pain and fatigue

Disease of the cardiopulmonary system have a powerful remission effect

Supplement the body's scarce trace elements and minerals

It can enhance the body's immunity, strengthen the body, soothe mood, improve the trachea, throat and respiratory diseases

Temporary relief of minor muscle and joint pain and stiffness
Advantages
The principle of photon red light therapy is to transmit light energy to the cells in our body. When light particles touch the skin, the body's cells absorb energy. In the case of PEMF therapy, we use them to charge our cells.
Photon light can rejuvenate the skin and improve its appearance. PEMF can restore healthy electric and biological magnetic fields.
Amazing Comfortable Superior
This boutique mat is long and wide enough for a comfortable sleep throughout the body
Full Body Comfortable Experience
The heat transferred through crystals and tourmaline ceramic balls feels like a deep massage, deeply relieve nerves.
Technical Specifications
Product Model: HH026 Excellent Mat

Stone Type: Natural Tourmaline & Jade

Material: PU Leather

Size: 60*150cm / 23.62*59.06in

Voltage: 110V 60Hz / 220V 50Hz

Heating Area: 40*119cm

Heating Power: 165W

Function: Heating, Photon & PEMF

Net Weight:

Total Weight:

Temperature Range: 30-70°C / 86-158°F