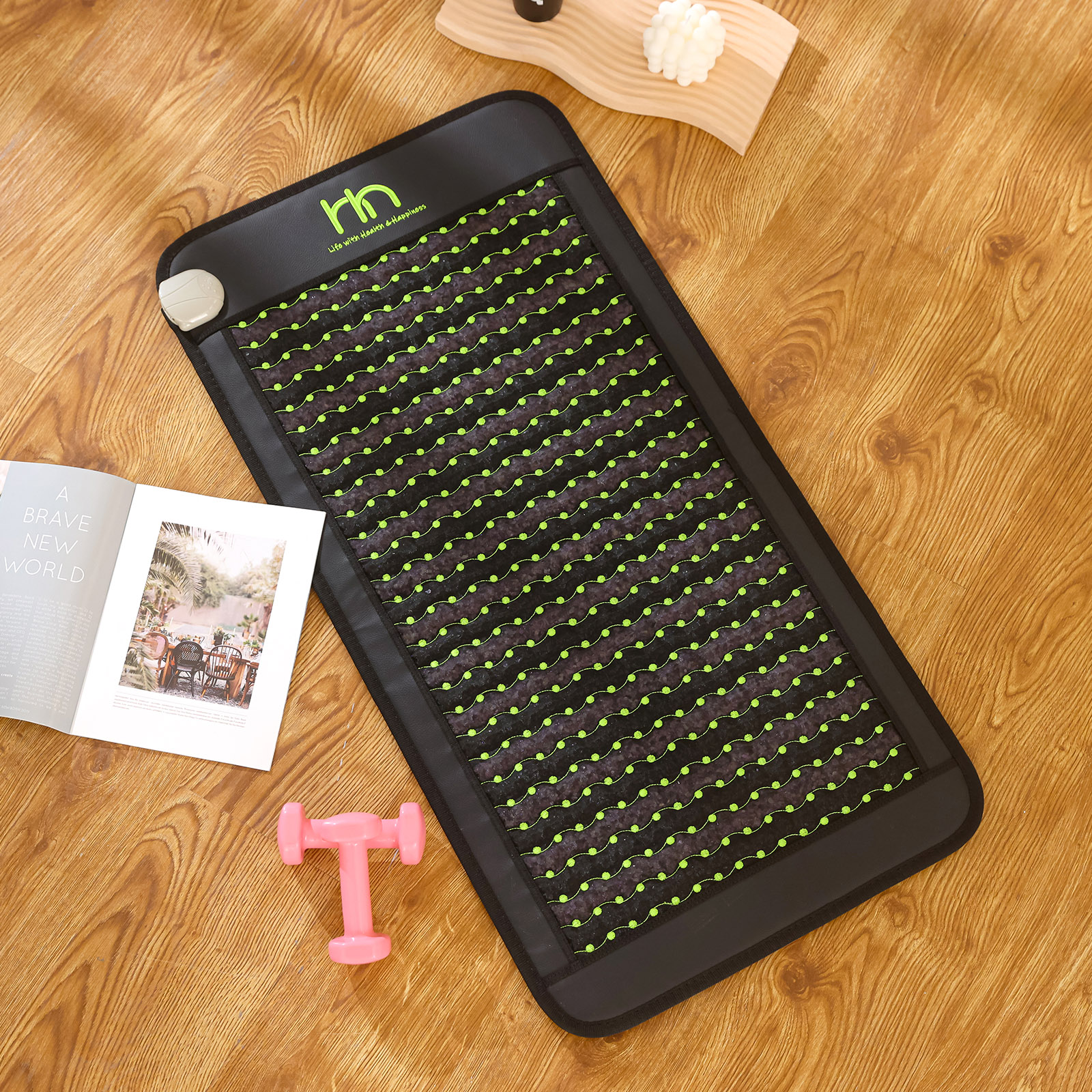 Product Description
On the surface of HH031 Legend Portable Mat, there are mesh fabric enclosing natural crushed amethyst and tourmaline, alternating between amethyst and tourmaline.
Amethyst helps to produce infrared rays that warm the body, while tourmaline produces a cooling effect. For centuries, both types of stones have been used to heal the human body.
The mat produces large amounts of negative ions into the air surrounding your body. Negative ions are atoms with more electrons (-) than protons (+) and are most abundant in natural environments like the mountains, oceans and forests. HH031 Legend Portable Mat surrounds you with negative ions.
It also projects far infrared rays into your body. The far infrared ray deeply penetrates organic substances, including your body and the warming effect is very uniform. Among the energy spectrum coming from the Sun, far infrared rays are the safest and most beneficial electromagnetic energy sources available.
Product Features
100% Natural Tourmaline & Amethyst

Far Infrared Heating Therapy

Negative ions Therapy

PEMF Technology

Durable Leather

Heat Resistant Mesh Fix Tourmaline and Amethyst

Fast Heating

Intelligent Controller Precise time and temperature control

Overheating protection
Health Benefits
Create a soothing sleep environment

Provide more relaxing sleep

Increase memory ability, improve insomnia, treat headache

It has a clear therapeutic effect on the body's digestive system

Balance positive and negative energy

Eliminate mental tension and stress

Maintain physical and mental harmony metabolism

Eliminate body waste

It contributes to the health of the body's trachea and lungs

It helps with blood circulation problems

It can be of great help to relieve the body's pain and fatigue

Disease of the cardiopulmonary system have a powerful remission effect

Supplement the body's scarce trace elements and minerals

It can enhance the body's immunity, strengthen the body, soothe mood, improve the trachea, throat and respiratory diseases

Temporary relief of minor muscle and joint pain and stiffness
Advantages
Flexible design for specific areas. Just put the heating mat on the uncomfortable area to get the final heating effect and relief effect.
By using HH031 Legend Portable Mat to help relieve lower back pain, muscle aches, sprains and strains, joint pain, muscle cramps, etc.
The heat transferred through crystals and tourmaline ceramic balls feels like a deep massage, you can experience it anytime, anywhere. It is portable and easy to store.
Technical Specifications
Product Model: HH031 Legend Portable Mat

Stone Type: Natural Amethyst & Tourmaline

Material: PU Leather

Size: 50*100cm / 19.69*39.37in

Voltage: 110V 60Hz / 220V 50Hz

Heating Area: 40*79cm

Heating Power: 125W

Function: Heating & PEMF

Net Weight:

Total Weight:

Temperature Range: 30-70°C / 86-158°F